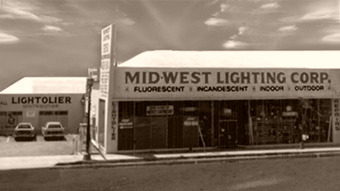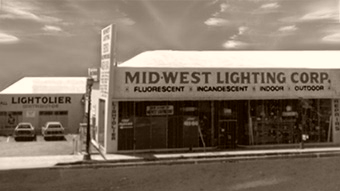 Mid-West Wholesale Lighting Corp. was founded in 1963 by Max Frandzel at the age of 47, when most people plan for retirement. He opened Mid-West's doors in November, 1963, at 601 N. La Brea in Los Angeles. Max ran the business by himself, later getting help from his two sons, Alan and Bob.
In 1975, with about five employees, the company moved to its present location at 5250 Hollywood Blvd. They opened their doors with a complete lighting showroom, stocked and displayed every type of lighting – decorative fixtures and chandeliers, track, recessed, low voltage, ballasts, fluorescent, HID, along with lamps to suit every need.
Now with a staff of over 35 people, Mid-West continues to meet and exceed the expectations of their customers and vendors. Their sales people are still regarded as some of the most knowledgeable in the lighting industry. Mid-West continues to be a third-generation, family-owned business.
Mid-West Wholesale Lighting moves to new building at their current location at 5250 Hollywood Blvd.

John Thies joins Mid-West in sales.  Ultimately John ascended to Sales Manager and retired recently as General Manager after 42 years of service to the company.  John has been responsible for many successful projects at Mid-West including our famous Lighting Affairs, the remodeling of our building, the development of National Accounts, and for the high quality of our customer service and the great relationships we have with our vendors.

Mid-West hosts the famous Lighting Affair at the Sheraton-Universal Hotel in Universal City, celebrating their 25 year anniversary.

John Thies announces his retirement at the end of the year, Mid-West hires Oliver Tiongco as new Director of Sales.